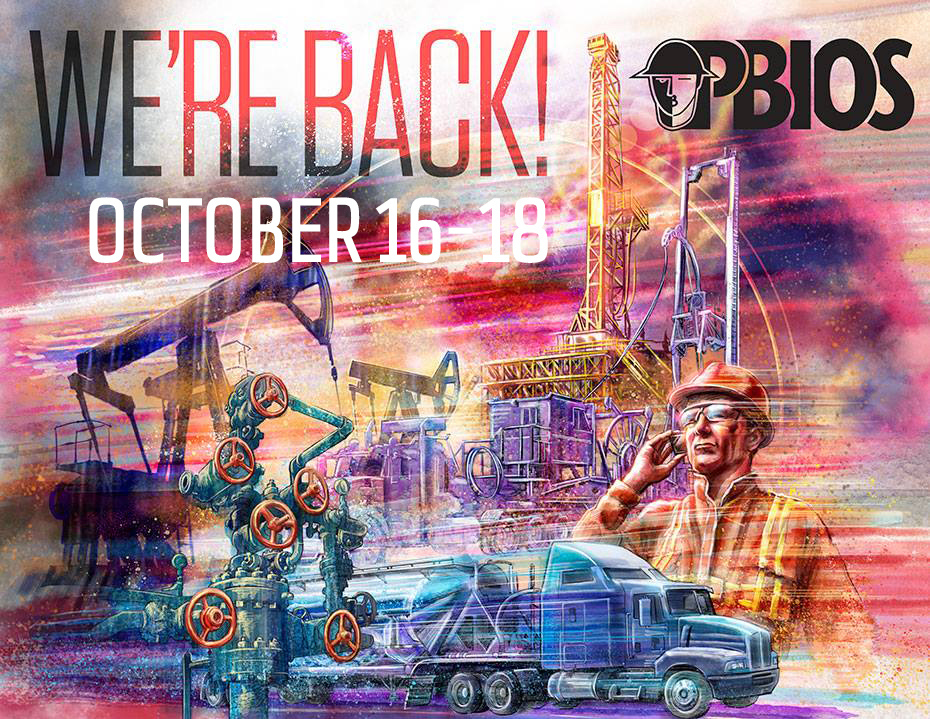 Visit Raven (booth #J95 & J96) at the Permian Basin Oil show in Odessa, Texas, October 16-18, 2018.
Raven is a long-term manufacturer of high-quality proven products for the gas and oil industry–fabricating large one-piece drop-in containment liners and covers. At the Permian Basin show we will be featuring our rugged Dura♦Skrim® N & J-Series reinforced products in smooth or textured and proven Dura♦Skrim® R-Series string-reinforced products. We will also be showing our new GeoMat™ rig-site geocomposite pad liner along with our targeted HydraFlex™ product line, designed with application specific attributes to maximize performance in above ground tank linings.
Raven specializes in large prefabricated one-piece drop-in panels up to 8,000 lbs. (up to 4 acres depending upon mil thickness) to maximize site coverage and minimize installation days, saving time and money. You can always count on Raven to consistently deliver reliable containment solutions, quick response times, strong factory welded seams, and a broad range of chemically resistant proven materials.
DURA♦SKRIM® N-Series is a flexible reinforced polyethylene and polypropylene geomembranes are uniquely designed to provide unmatched performance and durability for your most challenging projects. Rugged N-Series products are reinforced with a closely knit 9x9 polyester 1000 denier scrim for exceptional toughness, and high tensile and puncture strengths. A highly stabilized formulation consisting of antioxidants, UV stabilizers and carbon black provide excellent protection for long-term exposed applications. The N-Series product line is available in smooth or textured membranes and feature exclusive Raven GeoGrip™ cast surface texture. DURA♦SKRIM® N-Series products meet the applicable GRI-GM standard specifications as outlined by the Geo Institute and are certified under the NSF/ANSI Standard 61, Drinking Water System Components – Health Effects.
Dura♦Skrim® Textured J-Series is a popular solution for rig-site pad liners, reserve/frac pit linings, as well as many other oilfield site containment uses. Dura♦Skrim® Textured J-Series is available in 30 mil thick reinforced polyethylene and can add real value to your site by providing a durable tear and puncture resistant liner with our Raven exclusive textured surfaces for improved job site safety.
DuraSkrim R-Series has a long history of proven string-reinforced durability for near to mid-term applications, and is used heavily in the oilfield industry. R-Series is available in 6 mil to 24 mil string-reinforced polyethylene liners and can be fabricated in large one-piece liners up to 100,000 sq.ft.—depending upon mil thickness.
GeoMat™ - GM60 is a unique textured geocomposite manufactured with a premium grade linear-low density polyethylene textured outer layer laminated to a black needle punched protective fabric. Thermal stabilizers in the textured geomembrane provide long-term protection from oxidation and ultraviolet degradation. GM60 is used in a variety of high traffic applications requiring slip resistance, as well as for surface protection requiring high tear and impact strengths. Typical applications include rig-site pad liners, canal lining, secondary containment, and surface protection.
HydraFlex™ Pro Containment Solutions HP-Series has been developed specifically for applications requiring enhanced flexibility as demonstrated by its low modulus characteristics to resist pinholes and flex-cracking. These critical elements are necessary for reliable performance in above ground tank lining systems, as well as in earthen pit and pond linings.
For advanced chemically resistant liners, see our ABSOLUTE BARRIER® geomembrane products. They provide superior containment performance to sustain and protect natural resources. Absolute Barrier® is designed with a unique barrier layer to block odor emissions, and hazardous contaminants in solid, liquid, and gas form including methane, gasoline, benzene, and a wide multitude of other harmful VOCs.
We hope to see you at the show, be sure to stop by and speak with our energy specialists, and don't forget to sign up for our DeWalt® jobsite radio giveaway at the booth — winner will be drawn on the last day of the show!