We are proud to house a full-service technology solutions center displaying our solid commitment to research and development for future innovations. This development center adds a unique element to our overall program, offering the very latest in processing and testing capabilities. Raven provides integrated solutions for seamless product development, from conceptual ideas through full-scale production, with the manufacturing capacity to support long-range projections for maximum throughput efficiencies.

The technology solutions center houses two state-of-the-art pilot extrusion lines. A modern full-service GAI-LAP accredited laboratory along with a development/meeting area is designed to promote creativity and innovation in a stimulating work environment. Raven uses solid business strategies to minimize development cost and product time to market while creating superior value-added products.
We accomplish this using a wide range of prime raw materials and additives, including polyethylene (LDPE, LLDPE, HDPE, MDPE, Metallocene), polypropylene (PP), ethylene vinyl acetate (EVA), ethylene vinyl alcohol (EVOH), thermoplastic polyolefin (TPO), and nylon-based resins.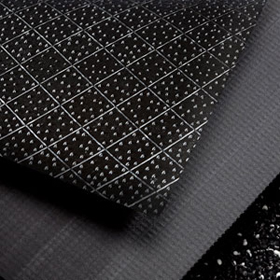 Raven believes by working closely with our clients up front during our six-stage product development program, we can effectively produce blown/cast and laminated film/sheeting to their precise specifications without wasting valuable client time or investments.
All Raven products developed and produced in our South Dakota, Texas, and California facilities are manufactured in a quality-controlled environment under our stringent ISO 9001 certified management system to assure we achieve complete customer satisfaction and continuous improvement in all phases of our business. Our newest facility located in Waynesboro, Virginia will operate in compliance with all internal quality control standards, and is targeted to begin future preparations in attaining ISO 9001 certification status. Contact us today to get started.
---
Have a product idea or requirement?
Submit your information:
Design New Product
Review our unique mix of operational Capabilities, we have the in-house experience to scale a new product from your conceptual designs to full-scale production and packaging!